Brief introduction
Honghai HRB industrial squeeze concrete pump is absorbing the foreign advanced technology and the development of a new, multifunction and multipurpose industrial pump.It completely out of the running mode of traditional pump impeller and shaft seal and impurities on the viscosity, corrosive, fluid medium transport has a great advantage, using the principle of very different from the traditional pump, wide application range.
Pump in the form of the structure: vertical, horizontal pump.
Pump into the form of the hose: single pipe pump, double pump.
Pump according to the sealing form is divided into: open, half seal pump, pump seal pump.
Construction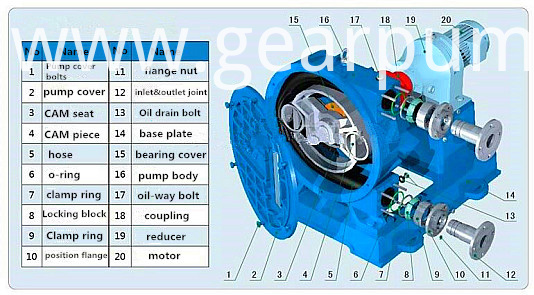 Application cope
1. The chemical industry: acid, alkali, phosphate slurry and inorganic materials such as titanium dioxide;
2. Petrochemical: drilling mud and previous delivery;
3. Water treatment: silt mud, lime etc;
4, mining, metallurgical industry, gold mining, gold smelting of filling materials in the pulp in the process of the transportation;
5. The pharmaceutical industry: all kinds of material liquid drug delivery;
6. The food industry: oil material and beverage conveying;
7. Paper industry: pulp, sulphur pulp conveying;
8. The construction industry: cement mortar conveying;
9 in ceramic industry, ceramic glaze slurry etc;
10. Electrolytic slag, slag metal liquid, paint, coatings, adhesives, glue, rubber latex, refractory fiber pulp and all other tightly seal requirements, more liquid viscosity, particle content delivery.
Working principle
A wall smooth, reliable strength of special rubber hose inside the pump installation, by rotating the squeezing roller along the hose is a pair of such rotation makes medium to one direction, and there won't be back.Flattened hose under their own flexibility and side guide roller forced restorable. At this point, the tube materials materials will produce high vacuum suction cavity, and then, the material in the subsequent roller pressure escape from the hose.So the cycle, material overtaken by suction and discharge.

Parameter Date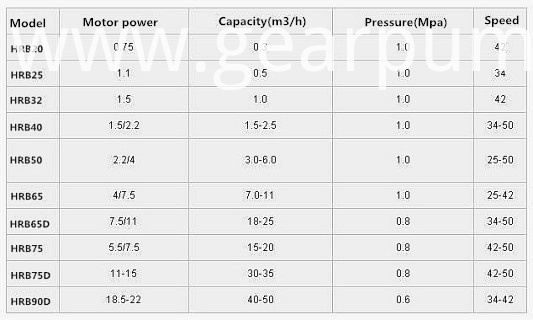 Product show